Happy October from LearnMyShot.com! To get excited about Halloween, we have a special tutorial on creating dramatic lighting for dramatic portraits, for all of you zombies and goblins out there. Here's how to shoot a dark and potentially quite scary portrait in studio, using only two clamp lamps.
This tutorial will help you get spookier portraits – perfect for the Halloween season.
What You Will Need
1 Camera, mounted on a tripod (OK without a tripod but watch out for camera shake)
Black backdrop
2 Clamp lamps (can be substituted with strobes)
1 sheet or suspended roll of vellum or Rosco Tough White diffusion
First Step: Set Up Light And Camera
In this tutorial, Robert takes a self portrait – setting up his camera on a tripod. Robert uses a 17-85mm lens at 77 mm, and we recommend the following settings as a start:
F-stop: F5.6
Shutter speed: 1/60 (if you are shooting without tripod , increase shutter speed to 1/125 to avoid motion blur / camera shake but do not forget to adjust ISO or f-stop accordingly)
ISO 200
The first clamp lamp is set up to directly light the portrait subject diagonally from one side, with a piece of vellum in front of the lamp to even the light.
The second clamp lamp is positioned, without vellum, to shine behind the subject (onto the black backdrop), which should create a glowing outline on the dark side of the face.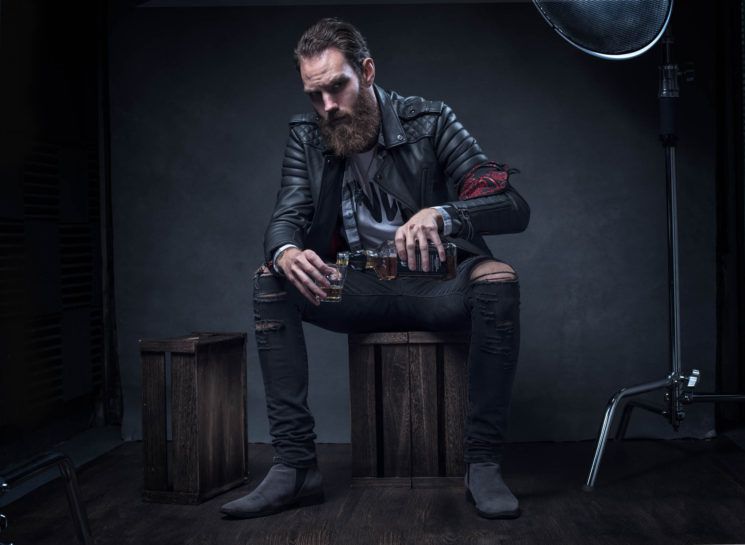 Second Step: Experiment With Light And Setting
You may not get the result you're looking for immediately, so make sure to move around your lights and adjust your camera settings until you get the desired effect. The resulting photograph should look dramatic, with one side of the face lit and the other almost completely dark, except for a mysterious outline provided by the second light.
Last Step: Capture the Photo
Our recommendation: throw a Halloween party, and take a dramatic two-light portrait of each of your guests. This technique is sure to cast an extra scary atmosphere for werewolves, vampires, witches, and (most importantly) the undead! Your guests will love it. Also read Best Ceiling Fan With Bright Lights.
Challenge: Take a portrait using the two-light technique, and share your shot in the comments. Bonus points for Halloween portraits!