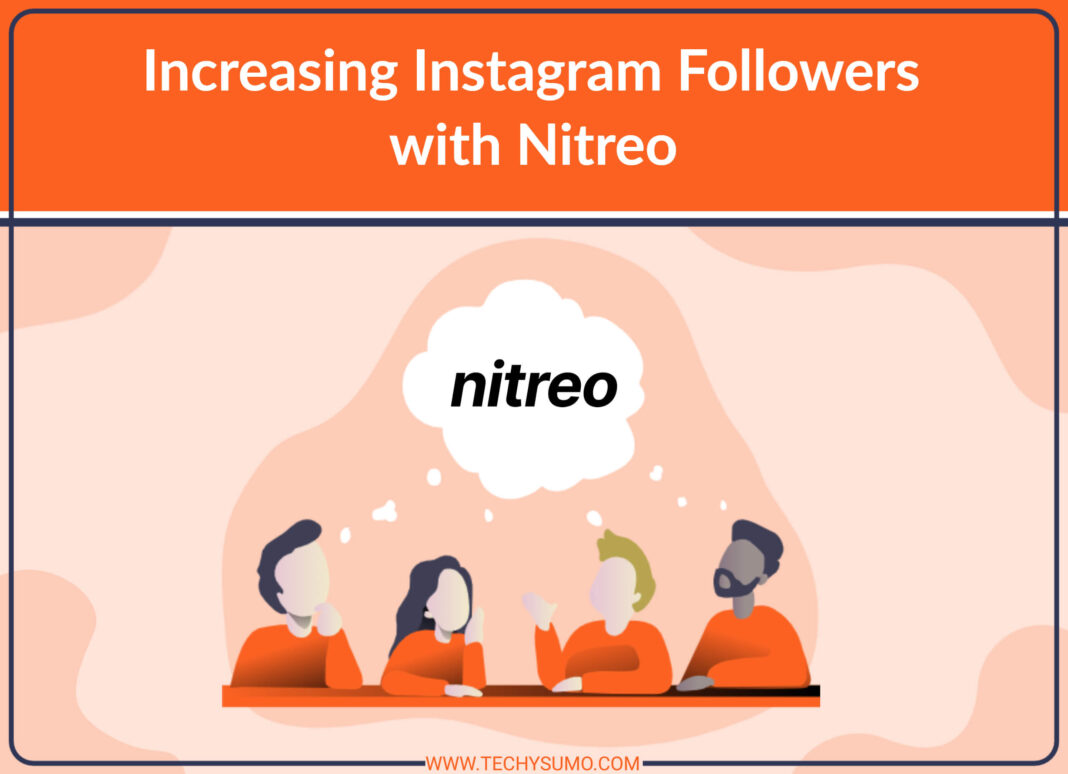 Are you an Instagram influencer or are you trying to promote your brand through this social media network? If yes, then you know the struggles that come along with having a page or an account on Instagram. Getting more Instagram followers online can be a tough job, especially if you are new to the platform. And sometimes, it might be great to have some help when it comes to expanding your growth.
This is why we are here to introduce you to Nitreo, an online platform to help you grow your page on Instagram. It is the perfect service to help you grow online and get more Instagram followers for your account. But Nitreo is so much more than just a growth service. It is an online platform that is rich in various features. With analytics, statistics, suggestions and more, this platform helps you build the best version of your Instagram page.
Thousands of online Instagram users are a part of this service and they have all benefited from using Nitreo. So now, the first step to your Instagram glory is to sign up to Nitreo.
Signing Up To Nitreo
The signing up process to Nitreo is extremely easy and will not take more than 2 minutes. The first step is to add your email address to the service's site. After that, you need to complete a bunch of steps and add in a few details. After you enter your Instagram account/page name, you will also be prompted to add at least 5 hashtags that come under your specific niche as well as Instagram accounts of similar users. This is to help Nitreo work and engage with the audience that comes under your niche.
Now, before you wonder about how much this service might cost you, we are here to tell you that it is affordable! You can sign up for this amazing service for a really good price, so read on if you are interested.
Pricing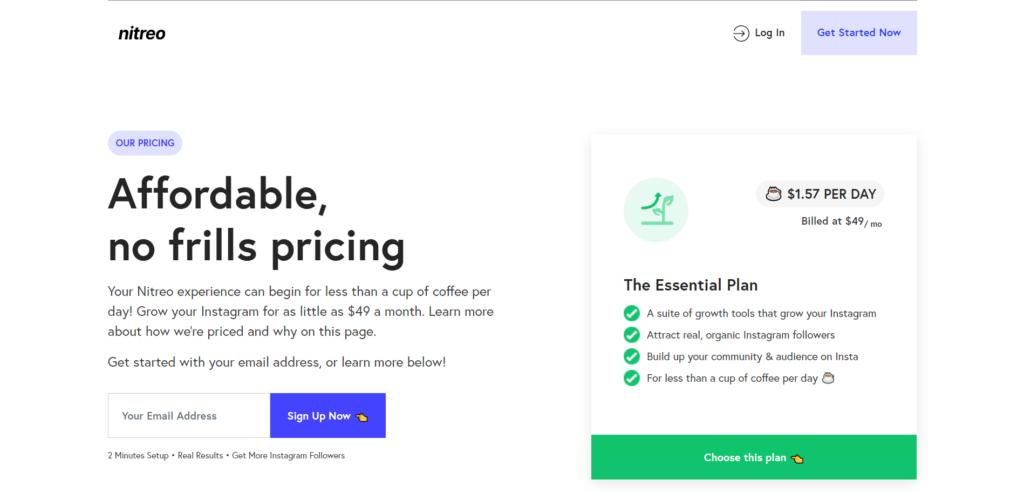 Nitreo offers all its users and potential customers affordable prices and packages. There are 2 different packages that one can choose from in Nitreo. These 2 differ not only in price, but also the various features and services they offer.
This organic Instagram growth service will not cost you more than a cup of coffee per day. Yes, that is how affordable the services offered by Nitreo are. So the 2 packages offered to potential customers are the Essential plan and the Speed plan.
The Essential plan is cheaper among the two. This plan, which comes at $49 per month, is usually chosen by up and coming Instagram content creators and beginners. This is the perfect option to choose if you are looking for an increase in likes, comments and followers on your page and account.
With the Essential plan, you will be able to see fast and organic growth taking place as well as real results that are visible to you. This plan will cost you only $1.63 per day.
Now, the Speed plan might be costlier than the Essential plan but is worth the extra money you put in. It will cost you $79 per month, which is $2.63 per day. This plan is the option that most Instagram and social media influencers and businesses go by because it will work wonders for your online presence. It also has many amazing features that you will not get if you choose the Essential plan.
The Speed Plan not only promises real results and fast, organic growth of your page, but it also allows you to use the targeting feature. This will help you to filter your audience and potential followers. You will also be eligible for priority support and the process will be carried out at maximum speed.
The majority of Nitreo customers have seen a huge rise in their followers within the first few days of choosing the service. And as the service also offers suggestions and improvements, you will soon be able to build a great online presence as well as an engaging Instagram page.
Features Offered By Nitreo
Nitreo has a wide variety of features that make it different from many other similar services. The first one is that this service promises all its users that whatever growth they get on Instagram, will be organic. Customers need not fear their account getting paid followers or bots. Whatever number of increase you notice on your page will be real because that is a guarantee that Nitreo makes.
One of the ways Nitreo tries to increase your follower count is by following similar accounts and users and this could result in a follow back. The follow-unfollow method is one of the best methods to increase your audience online on Instagram.
Another way that this service helps you grow is by viewing various stories on social media platform. Viewing stories is a great way to increase the visibility of your account or page. You will pop up in many people's feeds and this will increase the number of followers to your page.
With Nitreo by your side, you will be spared the time that you might have to spend viewing the stories because Nitreo does it for you. This feature is also very helpful in helping you pick more followers on Instagram.
You can even use the filter by gender option available on this service. This will help to make sure that your account only reaches your target audience. This is a great method to ensure that your Instagram page reaches only potential followers and users. This also makes sure that you have a higher chance of a follow back.
In a nutshell, Nitreo is the perfect option to choose if you want to grow your Instagram page. With the help of this service, you will be able to get a large audience for your content or your products. And it is also something that you can afford! With real, fast and organic results, you will soon be on your way to Instagram glory.