As you know from the blog title, you already know we are going to cover size, dimension and price about black TRD wheels 4runner. And lot more about it.
About Black TRD Wheels 4runner
This Wheel is collored with Matte Black Paint Color and a Red TRD Logo on the Center Cap. It is 17 inch x 7.0 inch x 4 mm offset in terms of diameter. Black TRD Wheels 4runner is Cast with Aluminum TRD Wheel with TRD snap-in center cap (PTR20-35111-BK). This wheel utilizes OE-style Flat-Seat lug holes & OE Flat-Seat Lugnuts. It can be re-use the OE 17″ Tires P265/70R17 113S Bridgestone Dueler H/T D684 II A/S OR Dunlop Grandtrek AT20 A/S NOTE: For the TRD PRO Special Edition Package, this wheel is matched PPO ONLY with the Nitto Terra Grappler Tire P265/70R17 113S M+S.
Fits: 2005-Present Tacoma, 07-14 FJ Cruiser, 1999-Present 4Runner, 01-05 Sequoia
BOLT:CIRCLE
P.C.D.: 6 On 139.7 mm
DIAMETER: 17″
FINISH: Matte Black
MATERIAL: Cast Aluminum
OFFSET: 4 mm
11-mm. with 4-mm. wheel offset widens the overall vehicle track width by 0.9-in. (22 mm.) for more aggressive stance
Off-road race-inspired 17-in. x 7-in. cast aluminum wheel with 6 lug nut pattern
Incorporates the proper weight, offset and brake clearance to ensure proper fit, finish and reliability
Also Read: How to check Engine Light on Toyota Camry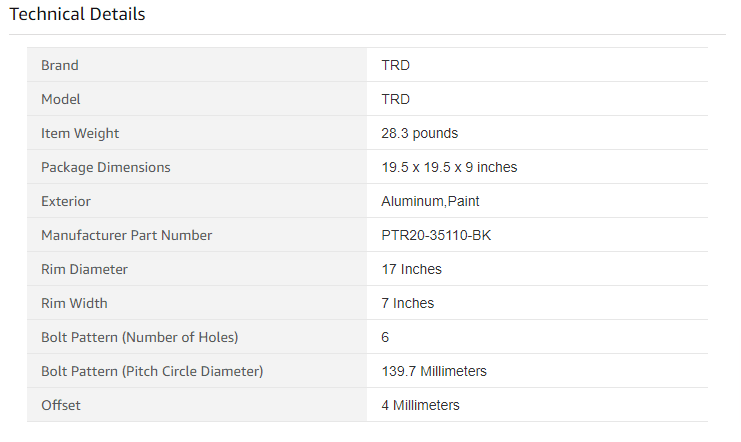 Also Read: Toyota Camry TRD Full Review
FAQs
Will this fit Tacoma Sport Long Bed with BFG KO2?
Yes, If will perfectly fits on Tacoma Sports Long Bed.
Will these black TRD 4runner wheels fit on Toyota Tundra?
No, Because of different lug pattern those wheels will not fit to the Toyota Tundra.
Will 275/70/17 Tires fits on TRD 4runner wheels?
Yes, those tires will be perfectly fits on TRD Wheels.
Will TRD 4runner Wheels fit a 2018 4runner SR5?
Yes, these wheels will support 4runner SR5.