Fiat Chrysler had unveiled the brand new loading pickup-RAM 1500 TRX, It has all that you need in a pickup i.e. performance, durability, efficiency, and so much more. The performance monster comes with a V8 Hellcat engine and horsepower of more than 700. Some automobile experts review TRX as the fastest, quickest, most powerful truck in the world. If any person is looking for a means of reliable transport and rough truck then they must go for all brand new RAM truck for sale. The features and new led light looks of the brand new TXR will surely give anyone an extra heartbeat.
The Features Are Latest And Advance, Hi-Tech In Every Aspect
While buying a new vehicle every person wishes to have all the top and fancy features in their vehicle at an affordable price. We have you covered up here with all the latest wrapped up in a beast which will make your every ride an unforgettable experience. This truck is the most safest and reliable ride. The features list is a long list starting with security than the performance coming to durability and at last the luxurious experience. So starting from here we have the following points to guide you.
Build To Last And Do Its Job Very Effectively
Riding from home to any camping site you will always feel safe and excited sitting inside RAM 1500 TRX. Coming to safety and security RAM 1500 TRX has over 100 standard features which work in a synchronized manner to provide you the best safety ever.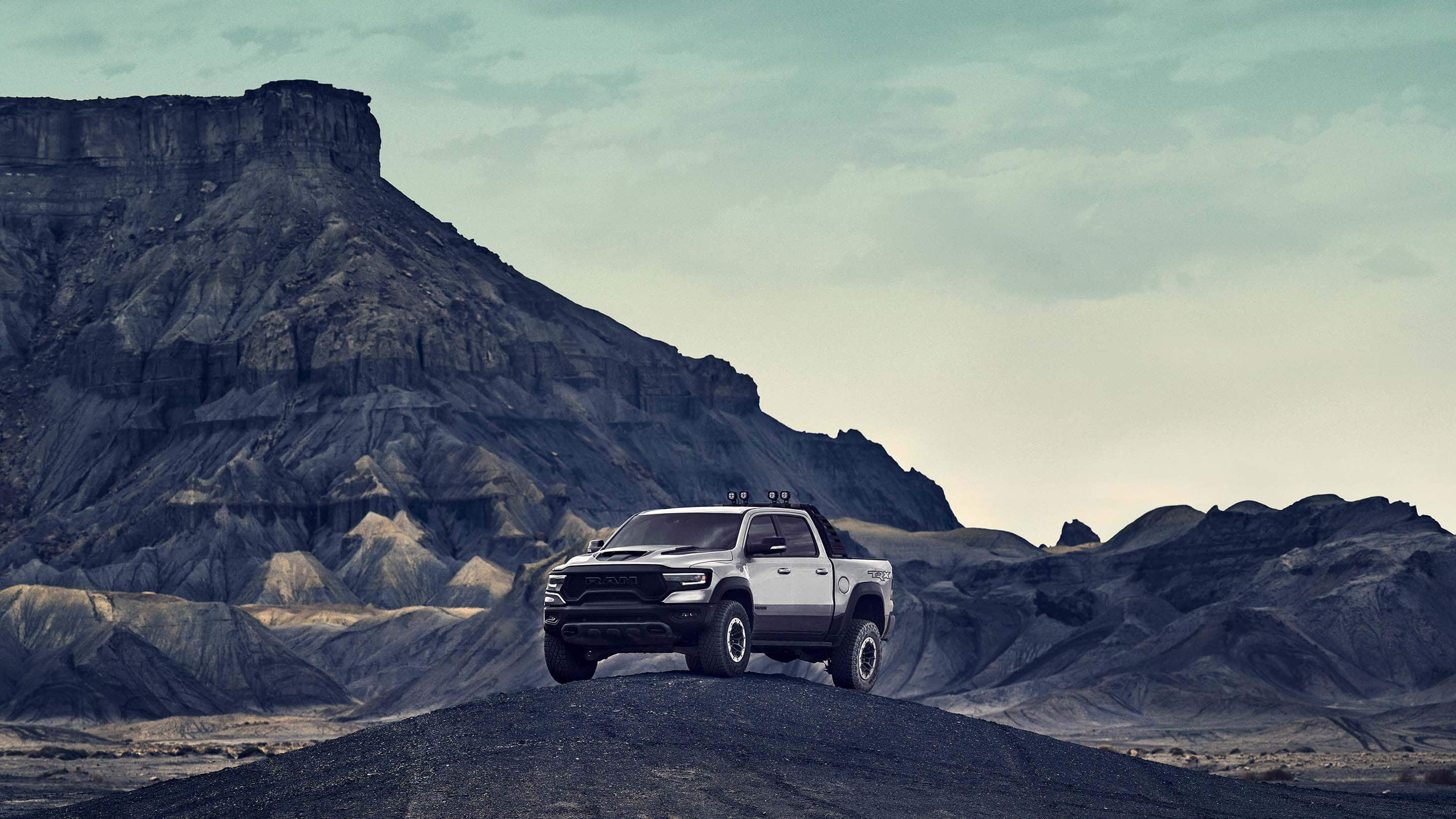 ABS
the antilock braking system is a major feature that provides the best control over the vehicle if any mishappening occurs during the ride. The RAM 1500 TRX comes with the latest ABS technology and gives the rider a safe and reliable experience every time they ride in RAM 1500 TRX. Even after towing any other automobile with this truck it provides the most advanced and trusted technology for the truck as well as for the towed objects.
Advanced airbag technology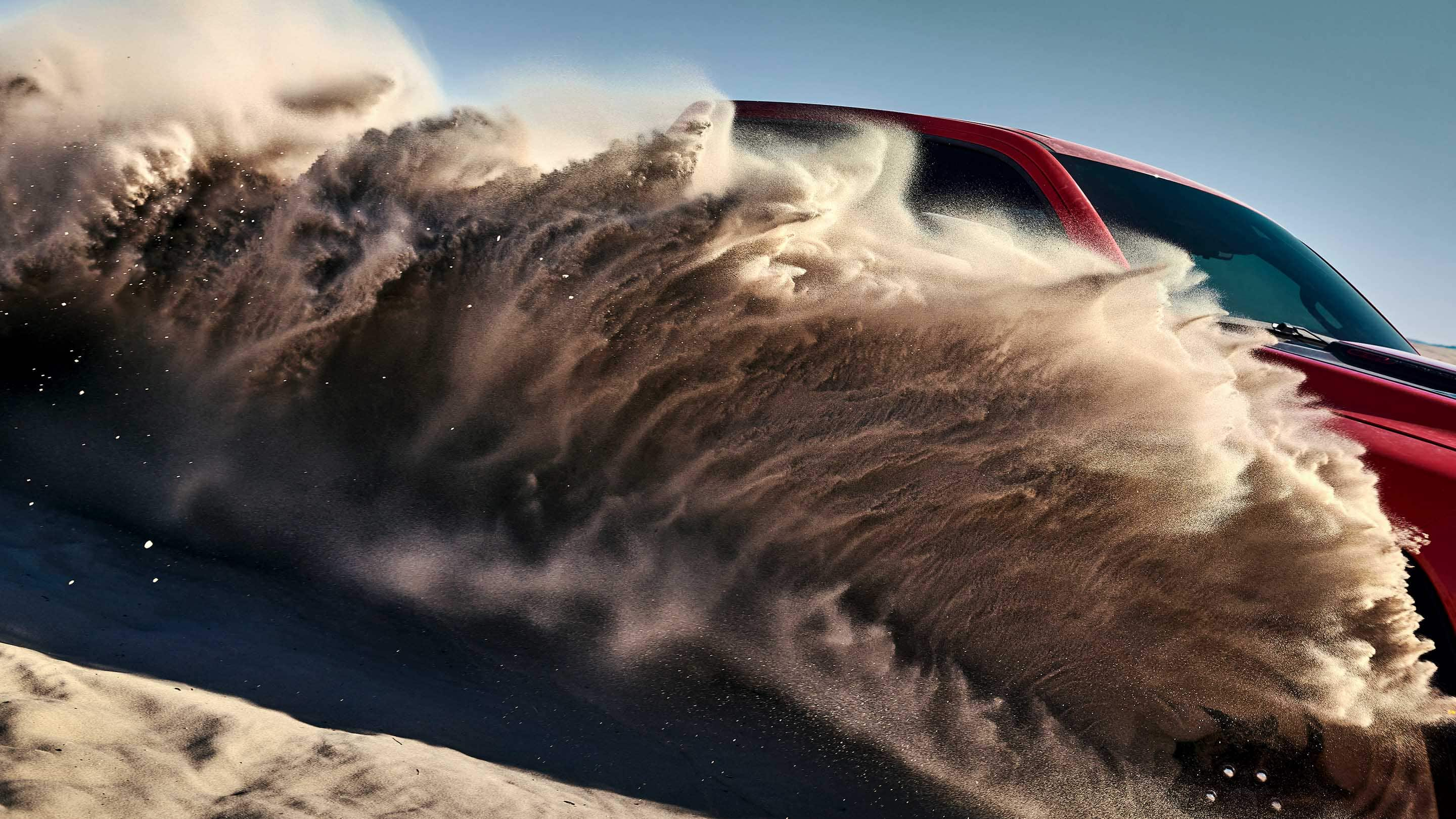 RAM 1500 comes with all seat-to-seat airbag safety. This helps to provide safety and protection and a relaxed state of mind for travelers. There is also a feature that is sensitive to collision position which means in event of a front end accident the front bag will adapt its cushion size accordingly to the occupant size and on the crash speed.
Sensors
The truck comes with advanced camera features which make the parking easy and convenient for the driver. There are lots of other sensory technologies which help and alert the rider of any sideways or front, back collision with other objects or vehicles. The robust side impact beams in each RAM 1500 protect from damaging side impacts. Massive brakes in RAM 1500 works so smoothly with these hi-tech features that result in each ride a safe and secure drive.
Luxurious At Its Peak
The RAM 1500 TRX will give you the most elegant look while seeing from outside or sitting inside. The rugged material fitted on the dashboard and the interior side door will give you the premium feeling of a top-class vehicle. The front seats are fitted with temperature maintaining technology which will be a boon for people living in a typical cold climate. The TRX comes with a different color in the interior which proves to be graceful with their black and red combination. And last but not least the special edition has a TRX illuminating badge which reminds you of the beast you are driving.
TRX Entertainment Console
It is the most skillful and technical advanced pickups. It amalgamates the rugged design and the same theme is pre-loaded in the 12-inch large UCONNECT touch screen multiplayer console. The screen can be further used as a split screen for multi-functions like a map and mp3 player. It has the latest version Bluetooth connecting feature. The screen can also be used to control temperature, destination, and the modes of driving. All Connectivity features like aux, USB, apple watch, and mobile phones can be easily connected with this to enjoy a happy and entertaining ride.
A Performance That Gets You Addicted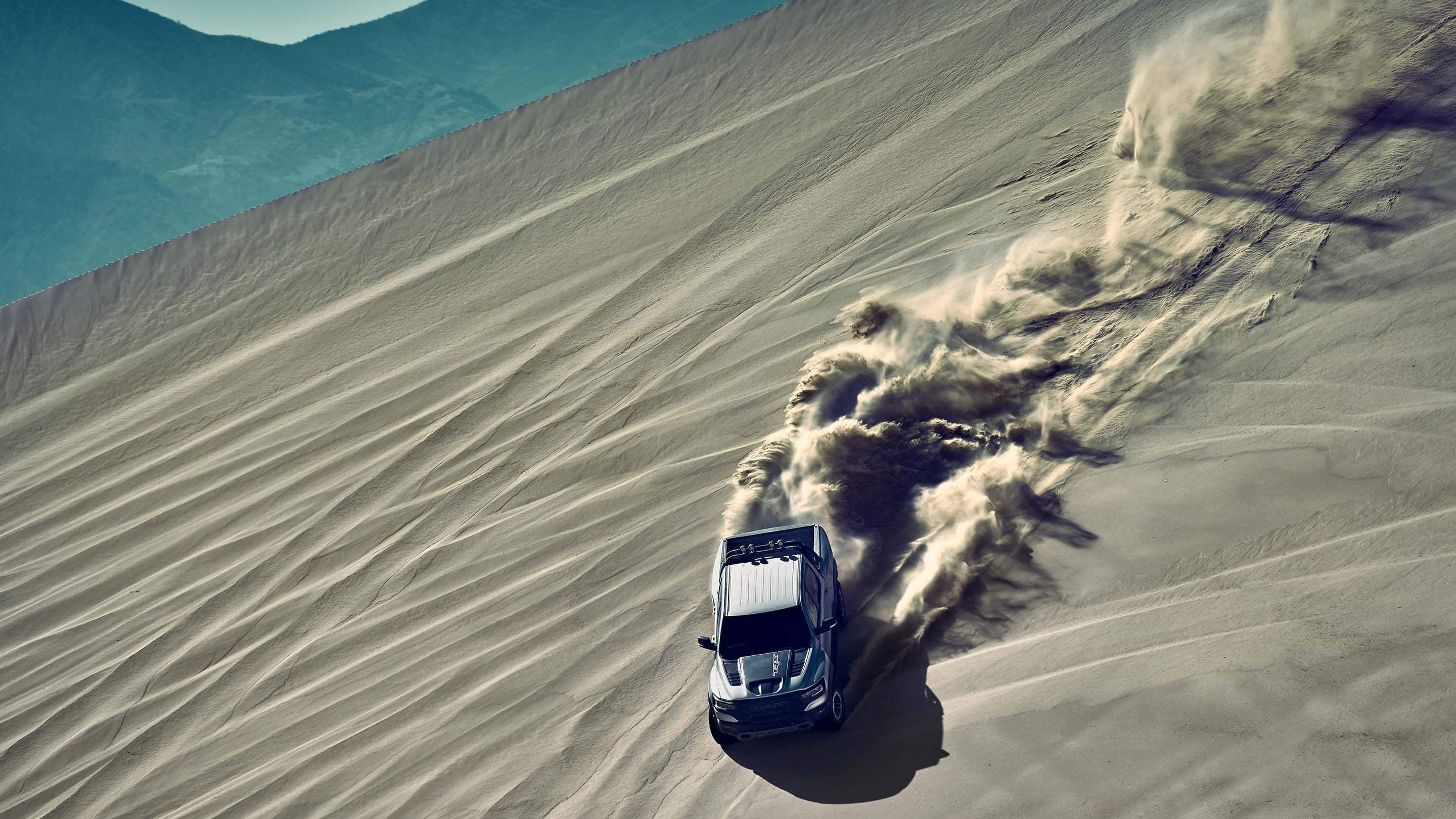 RAM 1500 truck comes with 702 horsepower and Hemi v8 engine. This iconic power generator combines variable valve timing and a multi-displacement system for higher efficiency. In some limited editions, there is etorque technology available with an extra 130 LB-FT of etorque. The 6.2 L supercharged Hemi v8 engine is one of the best-in-class 702 hp and 650 lb-ft of torque. TRX reaches from 0-60 mph in just 4.5 seconds. It has a top speed of 118 mph. The truck comes with 35-inch Goodyear wrangler territory tires which provide better grip and control in sandy and muddy adventurous rides.
Performance hood enhances the wanted air intake which further supply air to two 12*8-inch air filters
Launch control and drive modes all available at the steering of the truck for the pilot's convenience
Selected speed control maintained by various driving modes for better driving experience and efficiency of the truck.
An aerodynamically engineered design helps the truck to maintain its speed and hence enhances the overall mileage.
The V8 eTorque can tow up to 12750 lb and still can perform its all function seamlessly smooth.
The luxurious RAM 1500 comes in a different color, engine type, and editions like RAM TRX, Chrome edition, RAM limited longhorn, RAM Laramie, RAM rebel, RAM big horn, RAM lone star, RAM tradesman.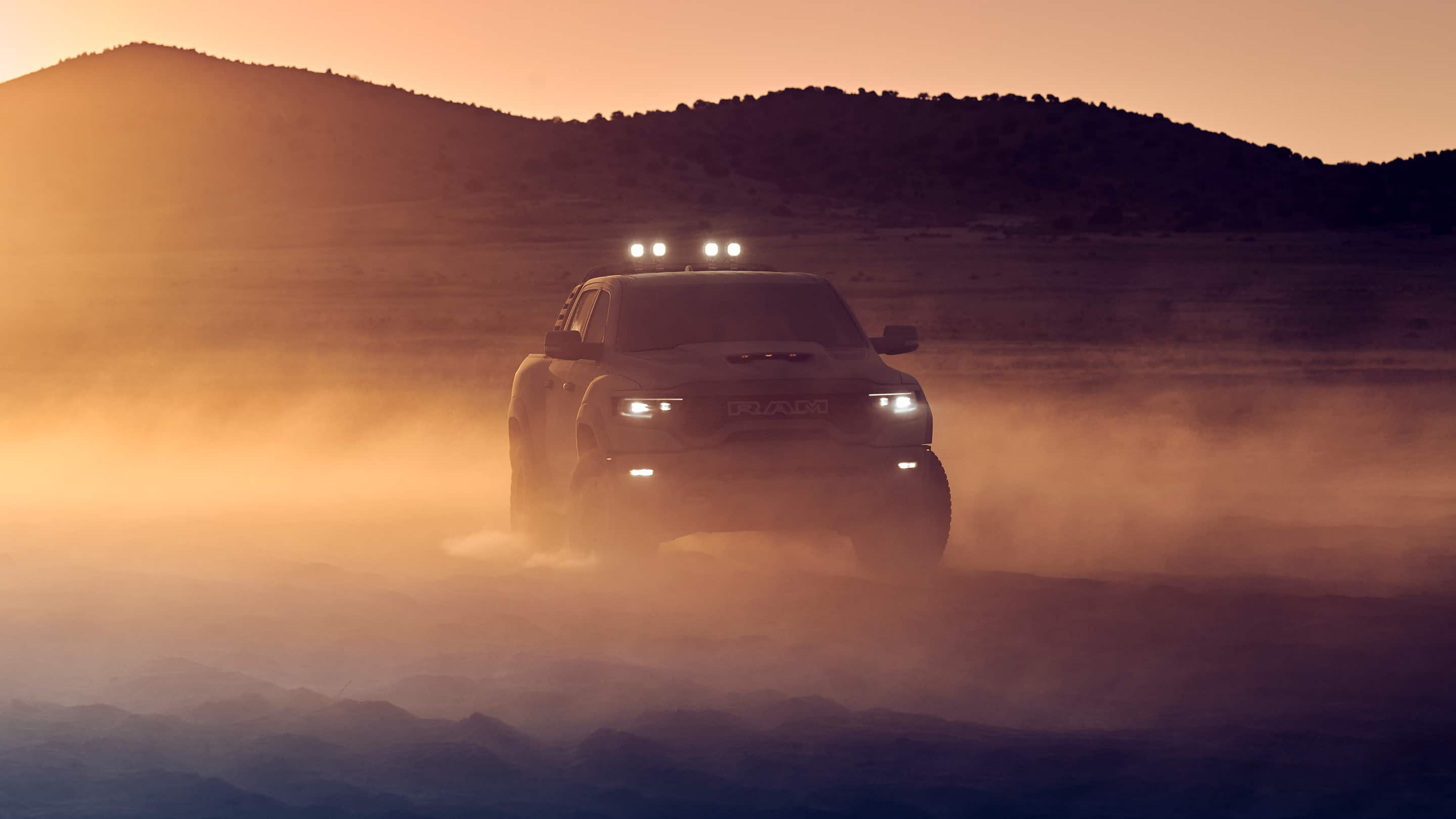 If anyone is looking for accessories to attach with RAM 1500 the company is also providing authentic accessories i.e. Mopar, which is tested and trusted for most rough adventures. Various parts are found useful and life-saving most of the time:
1. Off-Road-Style Running Boards
RamBar (not compatible with tonneau cover)
Soft Roll-Up Tonneau Cover
Beadlock-Capable Wheel
Drop-In Bedliner
2-Inch Lift Kit40
Bed Extender
Some Final Words
The RAM 1500 TRX is surely a rough and tough truck blended beautifully with technology and power. It can withstand serious typical conditions. Any person buying a vehicle for transportation purposes should go for a RAM truck without any second thought.