Video editing tools have become really popular these days due to the massive demand for video content in the world. People have consumed video content like no other form of media, and its demand is ever increasing. Video editing is now a staple skill in the media industry, and hundreds of people are trying to learn it every day.
Video editing is not as easy as it seems, as there are several things that you have to keep in mind and learn about constantly. But, no matter what kind of edit you want to do, you will need a good quality editing tool in order to tweak and apply the edits to your videos.
If you are wondering which best editing tools you can use for your iPhone, then here are the top editing tools that we suggest.
Top Video Editing Tool For iPhone
1. InVideo
InVideo is a top online video editor that you can use on an iPhone. This tool comes with all the top video editing features that allow you to edit your videos in the best manner.
InVideo comes with several useful features that allow you to trim, cut, rewind, copy and paste any clip of your original video. The overall interface is easy to understand, and you can get familiar with it in just a few days.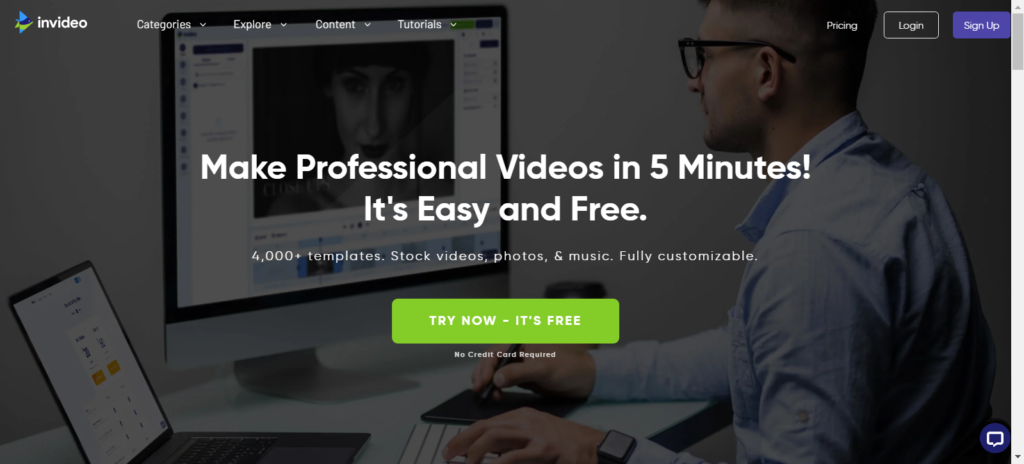 InVideo Editor also comes with great library access, and there you can find thousands of fantastic video editing resources. All of these elements together can make your video even more attractive and appealing to the audience.
You can get access to audio files, music, and images, all of which are license and royalty-free. The software is available for free, and you can also opt for the Professional plan if you are interested in using all the features that it has.
2. Clipchamp
Clipchamp is an in-browser online video editor that offers an iPhone app perfect for creators making content on the go.
It has a stunning, intuitive interface that is great for beginners who can create professional videos with a few taps. This mobile editing tool comes with advanced features to help you create, enhance, and edit videos with unique fonts, filters, colors, stock audio clips, and even customizable letterbox templates for social media.
One of the most popular features of this app is its ability to remove and replace the background of a video on an iPhone. It totally takes the trouble of curating the perfect filming backdrop and is perfect for TikTok. The AI-powered captioning tool went viral on TikTok since it will automatically scan your video and create accurate captions as well.
Clipchamp for iOS is currently free to use.
3. Quik for Mobile
Quik video editing app for mobile is developed by none other than GoPro. The application is easily compatible with iPhone, Android, and GoPro. The editor has a set of amazing features such as automatic audio detection as well as slo-mo.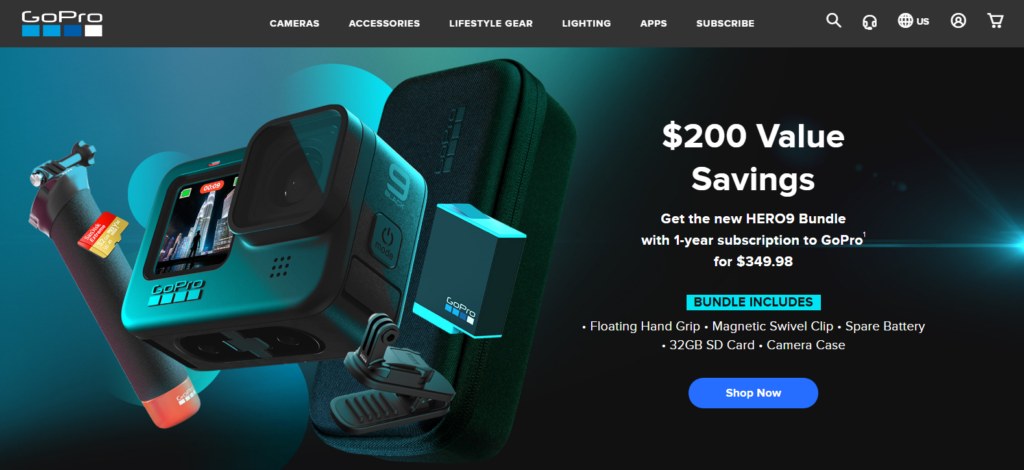 The software has been developed mainly for editing action videos and photographs. The app has a feature named GPS Sticker that allows you to show how quickly, high, or far the subject was going.
You can even reorder, trim, zoom, and rotate any video you want to or use the Smart Cut tool for automatically trimming the videos. You can make use of the 26 free transitions and 100 music files to enhance your video content. The app is available for iOS users for free.
4. Final Cut Pro
One of the most advanced video editing apps that have been developed for iOS users, Final Cut Pro is a very powerful app that you can use to edit your videos just like professionals. The user-friendly interface is very handy and has a wide range of features such as Magnetic Timeline.
Using this feature, you can trim and move the clips without disturbing the rest of the video you are editing. In case you are using anamorphic lens attachments, then probably you are trying to get ultra-wide aspect ratios, right?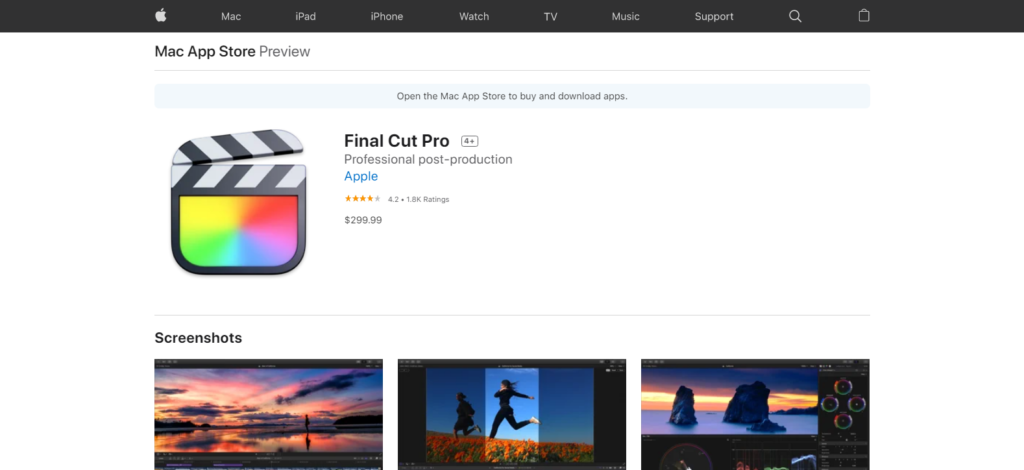 Then Final Cut Pro is a great way to achieve the desired results, and with the help of this app, you are able to de-squeeze the ultra-wide footage.
Some of the other interesting and useful features include Motion Graphics, 360° VR Editing, as well as Advanced Color Editing. You can download the app by paying a one-time amount of $299.99.
5. LumaFusion
For iOS users, LumaFusion has been a very popular video editor for quite some time now and has been ranked in the top 30 best apps developed for iOS in the editing section. The app comes with a clean and sleek UI that is easy to understand and allows the users to get used to the functionalities easily.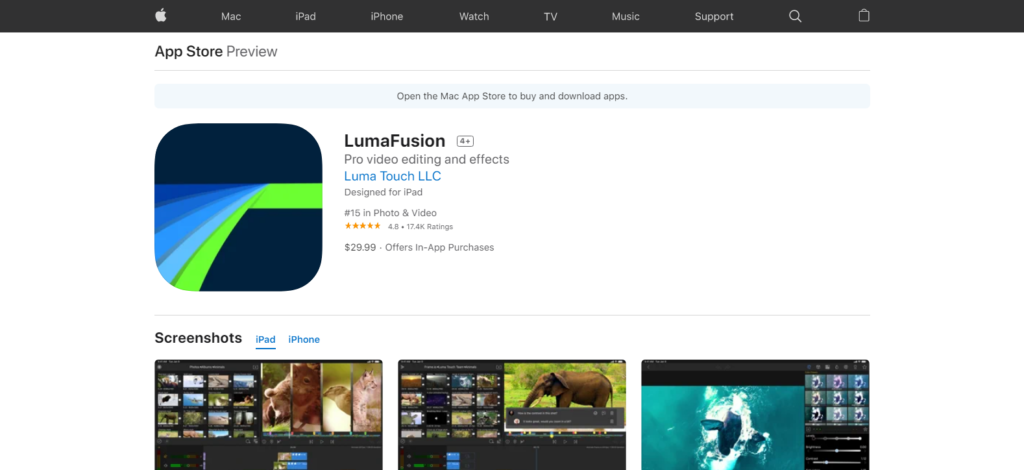 This app will enable you to drop the markers to leave any referrals for other people. The interactive and interesting interface allows you to carry on with your projects without any hassle.
You can use the real-time preview if you are interested in accessing the changes that you have made to your video. If you want to download this app on your iPhone, then you have to pay $29.99 and start editing.
6. Adobe Premiere Rush
Adobe has some of the best video editors in the market and the Premiere Rush is definitely the best for an iPhone. The app is very useful for those who want to make a lot of changes to their videos.
Premiere Rush is a brand new addition to Adobe's lineup of iPhone and DSLR editing applications. You can easily navigate through all features from the navigation tab, and it takes only a few hours to get familiar with the user interface.
The app also supports Full HD and 4K editing that allows professionals to make use of it. The color correction, compositing, and saturation features allow you to deliver any editing at the highest quality from now on.
For just $9.99 per month, you can get access to all the features that are available on the app. It also comes with an additional 100GB of cloud storage for storing all the necessary data.
7. iMovie Editor
You can quickly turn your videos into something special with the help of iMovie. The app has been developed for exclusive use for iOS and macOS users. You will find that the editor comes with really basic tools and elements for editing the videos.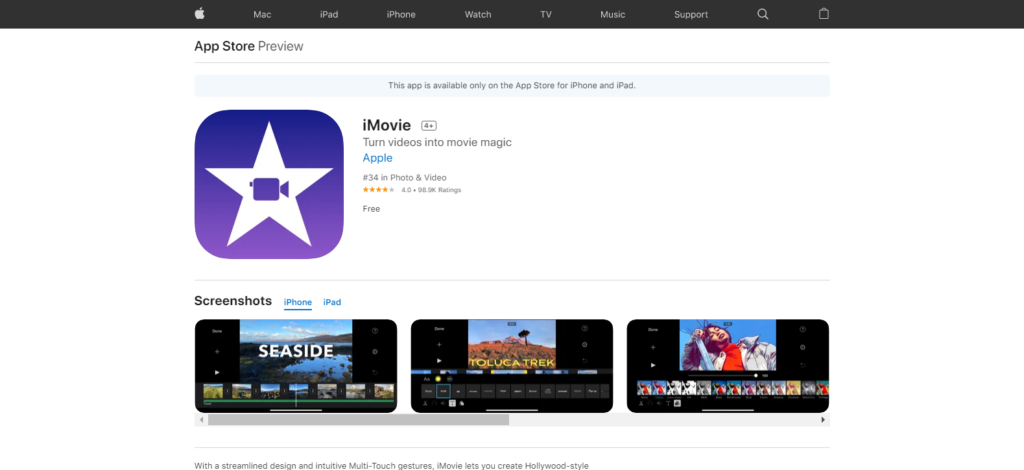 However, these are some of the most helpful and powerful features that you can use to make your videos genuinely amazing. You can easily custom-make the logos, give names, and credit roles just by selecting the template.
The app comes with 10 filters and 8 brilliant themes, which allow you to enhance the videos. It is easily one of the best online video editors for iPhone users with simple functionality.
The Bottom Line
So, these are the top video editing tools that you can use for an iPhone in 2021. Each of them has its own set of features. Choose the one that suits your requirement the most and start editing videos!