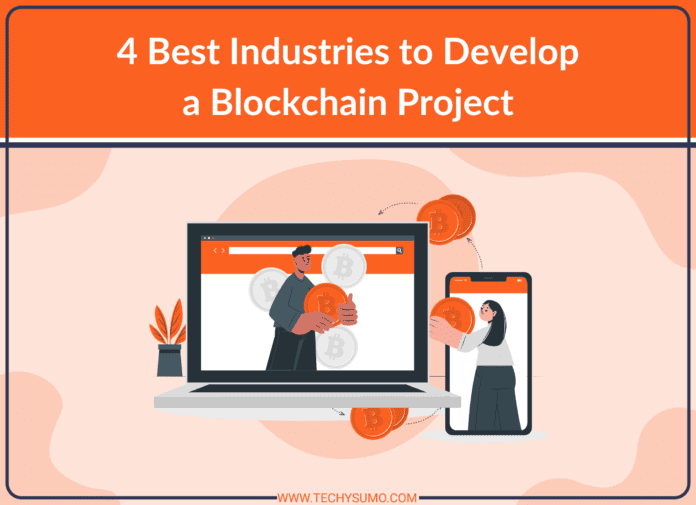 Blockchain technology is beginning to make its way into almost all industries in some capacity, and acceptance is growing. Given the projected future growth of blockchain, now is the perfect time to jump aboard because there's plenty of scope for innovation because of how new the space is. With this in mind, we take a look at the best four industries to develop a blockchain project.
Gaming
The gaming industry is widely associated with blockchain, especially when NFTs are considered. According to market statistics, the NFT gaming industry is expected to reach a whopping $65.7 billion before 2027, which would be quite an achievement considering the value at the end of 2022 was $4.6 billion.
With this in mind, there's plenty of opportunity for new p2e gaming developers to find success in this space. However, as with any other business venture, you have to do your homework and find a viable game with plenty of community interest.
Real Estate
Real estate is another industry that's benefiting from the blockchain treatment, and with good reason. One of the most fundamental use cases of blockchain in real estate is eliminating the amount of paperwork and time involved with processing a property sale. This is achieved through the power of NFTs, which allow properties to be minted and added to dedicated marketplaces for buying and trading.
Even though there are already companies making waves in the real estate industry, there's plenty of scope for creating blockchain developers to make their mark.
Music
The music industry has suffered significantly over recent years. The global pandemic led to the collapse of many gig venues. Streaming services are taking enormous cuts from profits earned by artists. Greedy ticket providers like Live Nation are charging a fortune in fees to buyers while taking huge cuts from artists. These are all pressing issues that can be solved through blockchain technology, but let's take a look at streaming services.
At the moment, artists earn money through streaming after the service has taken a large cut, but this isn't fair. This is where blockchain comes to save the day by allowing artists to stream music and earn 100% of the profits from users. Even though these 10 decentralized music streaming platforms and others are racing towards being the best, there's always room for strong competition to enter the industry.
Supply Chain
The supply chain industry brings together different services involved with retrieving services or products and delivering them to customers. There are many different stages in different supply chains, which means there's plenty of scope for vulnerability including data breaches and counterfeiting.
These are both areas that can be improved through the development of intuitive blockchain services. For example, databases with personal or sensitive information can be transferred from being stored on cloud systems to blockchain platforms. Considering how blockchain processes and encrypts data, it would make the information almost 100% breach-proof.
Useful blockchain projects are emerging across almost all industries, but it's still in the early days and there's plenty of room for innovative teams of developers to find success.
Also Read
How to Choose Promising Crypto Coins?
4 Cryptocurrency Trading Platforms To Start Your Career With
Tips On How You Can Get a Bitcoin Loan
Bitcoin worth one billion transferred to anonymous wallet – latest news
Steps to Protect Bitcoins from Cybercriminals
Analysis of Ethereum and Litecoin: How much Is One ZEC to BTC
El Salvador's Bitcoin Bid Hitting RoadBlocks
6 Reasons you should be skeptic about bitcoins