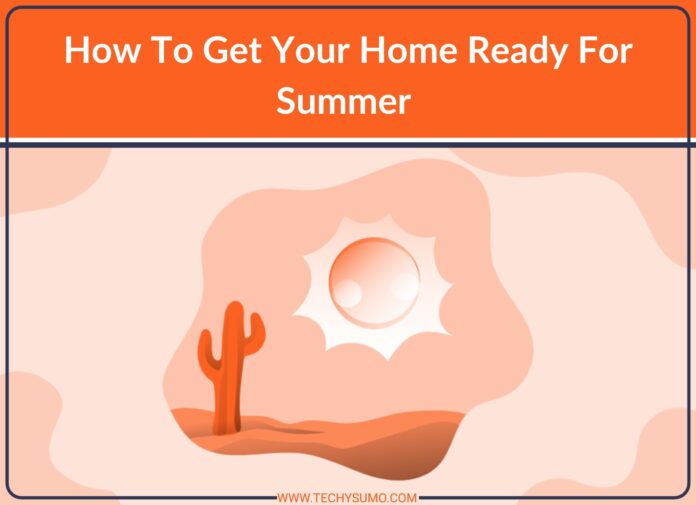 Summer is now just around the corner, and it is an amazing feeling once the weather starts to improve and you can enjoy spending more time outdoors. There are many great things about the summer, and in order to make the most out of the warmer period of the year, you will want to make sure that you have prepared your home. There are a number of tasks that you can do at this time of the year to get ready for summer, which should help you to make the most out of this time of the year and make your house as comfortable as possible.
Declutter & Deep Clean The Home
A good place to start is by decluttering and deep cleaning the home. This gives you the chance to throw out/sell/donate items that you no longer want or need and free up space in the home. You want the house to feel big, airy, and spacious at this time of the year, and decluttering is a great way to do this. A deep clean can also help the space to feel fresh and look its best for summer.
Switch To Light Curtains
You want to maximize natural light and let fresh air flow in the house during the warmer months. Switching out heavy curtains from winter to light curtains or blinds can really make a big difference and help you to bring the warmth and natural light into the house.
Switch To A Lighter Comforter
It is also a good time to switch to a lighter comforter. When it gets hot, you do not want to be overheating in bed with a thick comforter, so you should look into a lower tog comforter that will help you to stay cool and comfortable at night. Simply pop it away in the cupboard or closet when you don't need it and bring out a more suitable one for the summer months. If you need a good way to store away your winter duvet when you are tight on space, why not vacuum pack it?
Check The Roof & Clear The Gutters
Now is also a sensible time to get a ladder out so that you can go up on the roof and check for signs of damage. The winter months can take their toll, so you want to look for damaged tiles or any other kind of problem so that you can get it solved while the weather is dry. While you are at it, clearing out the gutters will be helpful and is a quick and easy job. If you're not comfortable doing the inspection yourself, hire a professional like Mighty Dog Roofing in Windmere, Florida to ensure your roof is in good condition.
Improve The Curb Appeal
There are various other ways that you can improve the curb appeal. This includes things like painting the front door, tidying the front lawn, hanging flowers, and exterior lighting. This will put a smile on your face when you arrive home as well as impress any passers-by.
You might even consider power-washing the outside. It will have seen a lot of wear and tear throughout winter. Doing so can take years off of the home and restore it to its former glory.
Get Your AC Checked Out
You do not want the AC to break down in the middle of summer, which is why getting your AC checked out before the temperature starts to climb is sensible. You will want to find an AC repair specialist in your area that you can call out to check out the AC, give the unit a tune-up, and carry out any required repairs. This will give you peace of mind knowing that your system is in the best condition heading into the hottest period of the year.
Get Your Backyard Prepared
Of course, the garden is the place to be during the warmer months. You need to spend some time getting this space ready so that you can start enjoying the backyard as soon as the weather permits it. A few of the key tasks that you will want to do include mowing the lawn, clearing debris, trimming back hedges, and introducing new flowers and plants. You then need to wash the garden furniture and set up a space for relaxing and socializing. You can then fire up the BBQ on the first suitable day and enjoy spending time in your garden enjoying the sunshine.
Also read Tips To Buy The Best Upright Freezer For Your Home.
These are a few of the key tasks that you will need to carry out before summer arrives to get your home ready. The summer can be a lovely time of the year, but you need to be prepared, and the above should help you to get your home and garden ready so that you can enjoy the entirety of the summer and stay comfortable throughout.