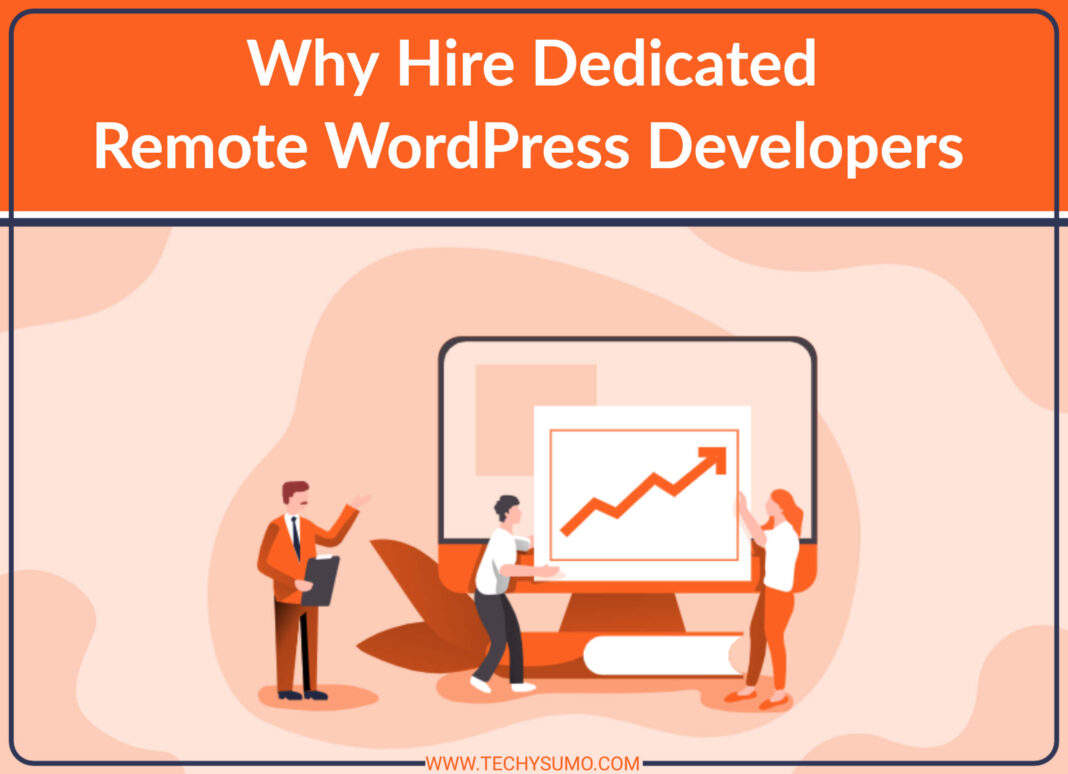 People are not your most important asset.
According to Jim Collins, business management consultant, researcher, and author, the right people are.
That's why when you are hiring someone to build your business website you need to put honest thought and effort into it. After all, your website is at the crux of your business's digital presence. It has to be bang on for you to be able to reap any results from it.
To begin with, your website needs to be built on the right platform. You are here, which means you have decided to go ahead with WordPress. That's half the war won. There's nothing better than a CMS that 40% of the web uses.
The second part is getting your site developed by experts. For that, you need to hire a dedicated WordPress developer.
There are several ways to do that. You could hire:
An in-house developer
A remote WordPress developer
A freelancer WordPress expert
A contractual employee
Different people might have different opinions regarding the most suitable engagement model. However, taking a call based solely on personal opinions isn't the right move.
That's why we mulled the facts and statistics.
Factored in real-life experiences.
And did not let biases take over our thinking.
After a detailed analysis, we have found the most suitable way. And that is to hire a dedicated remote WordPress developer.
Curious to know what led us to that conclusion?
Here's how:
Breaking down the term – Dedicated Remote WordPress Developer
Before we begin justifying the need to remotely hire a dedicated WordPress developer, let's break down what it actually means.
Dedicated – Someone who is working solely on your project. Not a freelancer or agency juggling multiple projects. 
Remote – The job is location-independent and the candidate can be geographically anywhere across the globe. 
WordPress – Not a generic website developer who can work with drag-and-drop editors and key in lines of code. When you Hire Mobile App Developers India For building mobile apps on these two platforms using these Someone who has experience and expertise in working with WordPress CSM and knows the platform inside out.
Developer – Someone who knows who to build things from the ground up. Not those who excel at patchwork or can just help/consult, but not work independently. 
Next, let's check out why you should hire a dedicated remote WordPress developer.
3 reasons dedicated remote WordPress developers are the right pick
Hiring remote WordPress developers is cost-effective
When you hire a remote employee, you automatically cut the overheads. That makes any remote hire cheaper than on-site engagements. That's the obvious bit.
Also, companies offering remote work see 25% lower employee turnover compared to those that don't. Thus, you'd also be saving the cost that goes into hiring replacement employees.
But the cost benefits of remote hiring are more when we specifically talk about WordPress developers.
It is known that the cost of hire varied based on the location.
For example, if you hire a freelancer from a platform like Upwork, you'd be charged anything between $15 to $40 per hour.
But what if you hire full-time WordPress developers working dedicatedly on your website? You'd have to dish out an average of $63,348 per annum. That's roughly $33 per hour. (If we consider an 8-hour workday, 20 working days in a month, for 12 months.)
Now, let's see what happens if you broaden your hiring horizon. Say, you hire someone from India. The average hourly rate for WordPress developers in India is around INR 750. That's about $10. $5 cheaper than the cheapest freelance American WordPress developers.
If we consider a standard 40-hour workweek, you'd be saving $200 each week.
You get access to international WordPress talent
WordPress developers need relevant competency. However, what's also important is a deep understanding of users and the market. Plus, communication skills, team spirit, and openness to feedback, among other things.
When you are looking for such a multi-talented candidate, limiting your search to your country makes little sense.
By hiring dedicated remote WordPress developers, you can expand the available talent pool. And thus, possibly find a better candidate who happens to be located on the other side of the world.
Also, a study by Oxford suggests that countries like India, Indonesia, and Columbia are going to have the most talent surplus in 2021 and beyond.
This means the number of college graduates in these countries would be more than what can be absorbed by the local economies. This would bring down the wage premium and make many talented experts from these countries open to being hired by companies in countries like the UK, USA, and Japan, which are expected to face a talent deficit.
By hiring remotely from the green zone countries, you can bank on the talent surplus while getting the services of cream talent.
Remote WordPress developers are more productive
77% of remote workers claim that they are more productive as compared to when working from home. This can be attributed to no commute, a more comfortable work environment, flexibility, and better work-life balance.
That establishes the supremacy of hiring any remote employee over an employee that is required to come to the office.
And the benefits multiply manifold when we talk about a remote WordPress developer. Why? Because we have data that proves an increase in productivity among remote employees.
In the graph below, we can see that more than 42% of developers saw at least some increase in productivity since the COVID-19 pandemic forced them into remote work. For more than 16% of respondents, the increase in productivity was significant.
This makes it clear that if you are hiring a developer, remote is the way to go.
Moreover, remote work also promotes creativity. A study found that 56% of people said that they experienced creativity and innovative thinking when working remotely.
This can be greatly beneficial for creative tasks like WordPress web development. More creative WordPress experts mean a better-looking and higher-performing website for you.
What NOT to do when hiring remote WordPress developers?
All pumped up to hire a dedicated remote WordPress developer for building your business website? Here are a few things you should NOT do:
Hiring someone without a proper background check
Especially because you are hiring candidates who are not from your city or country, you need to be assured that they have a clean track record.
Compromising clear communication
What if your WordPress developer fails to inform you about a possible bug? Such situations are more likely to arise in a remote role, so you need to hire someone who is great at clear and prompt communication.
Not paying attention to employer-employee cultural fit
If an employee is not the right cultural fit for your organization, their technical skills wouldn't reap results for you.
Onboarding the first/cheapest candidate
Hiring is an art. And while it is 100% possible that the first candidate or the cheapest candidate might be the best one too, you shouldn't jump the gun without comparing options and considering other candidates.
The simplest way to hire dedicated remote WordPress developers
Hiring a dedicated remote WordPress developer will be advantageous for your website and thus, your business. But if we are being completely honest, the task is strenuous.
Don't want to do that?
Find a talent connect platform. Such platforms help bridge the gap between talent and those looking to onboard that talent.
For you, as an employer, the benefits of using talent connect agencies include:
Hassle-free hiring (No need to carry out technical interviews or conduct background checks.)
Easy access to the top global talent.
No hiring/training cost. Just pay the fixed monthly salary.
Guarantee of finding culturally-fit candidates.
That's great, right? Get started today!
Appendix
Sources