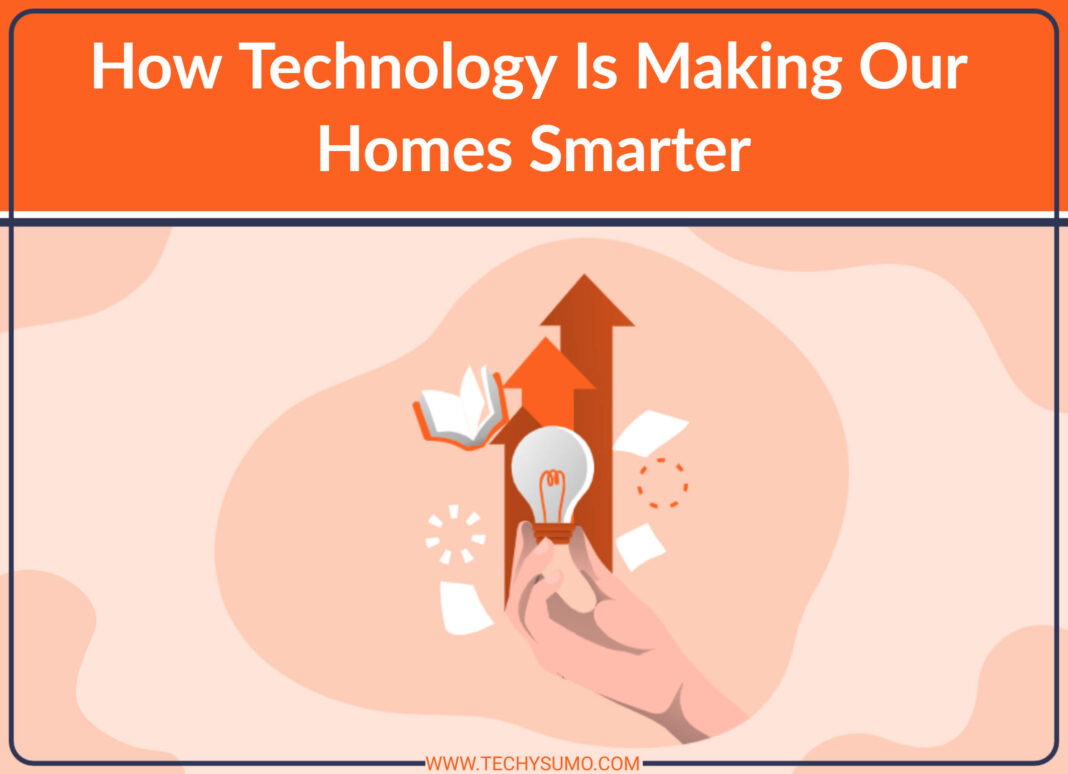 From our smartphones to check the weather in the morning, to paying contactless when we buy items from a store. Technology is everywhere. It has become a key part of who we are as a society, and how we go about our daily lives.
Naturally, we have seen this migration of technology into our own homes, with smart homes becoming a lot more popular. From smart technology in our homes, to how it's improving the buying process, technology is making our homes smarter for the better.
Smart homes
What is smart technology?
Self-Monitoring, Analysis, and Reporting Technology (SMART), according to Netlingo, includes technology that has some level of cognitive awareness but that was once primarily an inanimate object. Most of these objects can now be controlled remotely via the internet, and include smart plugs and thermostats, as well as coffeemakers and washing machines.
Smart technology comes with a range of benefits, such as helping you to track your energy usage, making you appear home to deter burglars, and turning your appliances on and off remotely.
Source: Pixabay
Smart hubs
When you've got a lot of devices that you can control remotely, then it helps to have a smart hub. This means that all your smart devices can be managed in the one place, often through an app on your smartphone, uniting appliances that aren't on compatible networks, Forbes likened this to creating an ecosystem made up of smart devices. While they can be expensive to install in your home, they make your home run as efficiently as possible and are worth the initial expense.
Smart plugs
If you're not wanting to integrate all your home appliances, or just get into transforming your house into a smart home, then smart plugs are the perfect place to start. By turning any appliance into a smart appliance, you also don't need to worry about refurbishing your own home. You can still control them using your smartphone, like with a central hub, and they can work with a whole range of devices from televisions to slow cookers.
Smart switches and lightbulbs
By allowing you to control your home lighting with your phone, smart switches are easy to install and manage. While you can invest in smart bulbs, you can avoid the hassle of replacing all your old ones as most switches can work with standard lightbulbs.
While switches are more complicated to install, requiring an electrician, will save you money in the long term. By combining both switches and bulbs, you can create the perfect home environment to suit your mood without needing to move from where you're sitting.
Different types of smart devices
There are so many different smart devices that you can incorporate into your life, such as:
Thermostat
Home monitoring systems
Doorbells
Televisions
Speakers
Washing machines
Energy meters
Technology in the home-buying process
Buying a home
It's not just homes that are becoming smarter, but thanks to technology the whole process of buying a home has. You no longer need to make an appointment with an estate agent when it comes to viewing a home, as the internet has everything you need right at your fingertips.
With the ability to receive fee-free advice within 24 hours of your query, you can calculate how much you can borrow with a free service like Trussle, and receive a decision on your mortgage within five days. While they are a UK-based company that helps UK residents, this is a service you can find wherever you live.
Source: Pixabay
Green mortgages
If you're creating a smart home, or have plans to, then you could be entitled to a green mortgage. Also known as eco mortgages, you can be rewarded as a borrower if you intend to buy a home that is energy efficient.
You could also receive rewards if you plan on renovating your current home so that it's more sustainable and greener to maintain, which smart technology helps you to achieve. Whether it's through tracking your energy consumption to ensuring all your devices are switched off at the end of the day, smart devices make you live a greener life.
Improves accessibility
Technology is not just making our homes smarter, but also improving accessibility. By having devices that can be easily controlled by an app on a phone, or via voice, people with disabilities can stay independent. They also make life a lot more convenient, especially when it comes to managing a busy schedule or keeping your home and loved ones safe.
Overview
Technology is making our lives smarter, as well as our homes. It can be daunting having so much technology in your home, but it definitely has a number of benefits. By turning your home into a smart hub, you're also more likely to receive rewards and benefits on your mortgage, as well as save money on your energy bills.