Emails are one way to keep your brand at the top of your customer's mind and make them stay connected with your business. It doesn't matter if you send daily, weekly, or monthly emails. Email marketing is very important for your business.
Starting a new business or startup you might have a low budget or you don't want to spend too much money on email marketing at first, or maybe you don't know the right platform to use, and you want to test them out and see which one fits your needs best before upgrading.
When starting an online business, chances are you have a small list of subscribers, or you don't have a list at all. Is the big-budget for email marketing campaign worth it? Well, if you have 0 subscribers or bellow 2000 email lists.
Instead of paying big for email marketing, you can send free emails and use that money to grow your business and put your brand name out there.
Email marketing services provide you with 3 main features.
Create a sign-up or opt-in forms
Automation and follow up campaigns
Schedule and send broadcast emails
How to choose email marketing software
There are some things you need to know before picking an email marketing software. These are the 4 things we consider necessary for choosing a good email marketing platform.
Integration
You want to make sure any email platform you pick, can integrate easily with third-party services, like your Plugins for your website and CRM (Customer Relationship Management) software. Choosing email marketing with easy integration would save you time and money.
Deliverability
How long does it take for an email to deliver? Does your email go to spam or inbox? Does the platform offer dedicated IPs, shared IPs, or both? How many emails can you send a month? What is the email list limit? You want a platform that can answer these questions.
Automation
Automation is very important, it would not only save you money, but it would also save you time. You need an email platform that can schedule emails to send. For example, welcome messages, send broadcast emails, drip messages, default email replies, and so on.
Analytics
Whether you own a small, medium, or a larger corporation, analytics would show you how well your business is doing. You can see how many people open or read your broadcast emails, how much email sign up do you get in a day, weeks, or month?
The 10 Best Email Marketing Platforms With Free Trials
MailChimp is one of the most popular email marketing platforms, there are different plans for any stage of your business, whether small, medium, and large enterprise. This simple to use user-interface platform offers you no experience level, no coding interface, you can easily build forms, newsletter and embed sign-up forms or opt-in form to your website.
The free plan offers you a 1 click automation, 7- marketing channel, free basic templates, custom domain, and a landing page or product launch. It may not look much, but the MailChimp free plan will get you started in building your email lists.
Free plan:
MailChimp is one of the easy ways to start help you get started with email marketing. It allows you to send 10,000 emails to 2,000 subscribers monthly.
Paid plans:
MailChimp offers 3 paid plans: the essentials $9.99 per month, the standard at $14.99, and the premium 299 per month. The price is subject to additional charges for using above the monthly plan limits.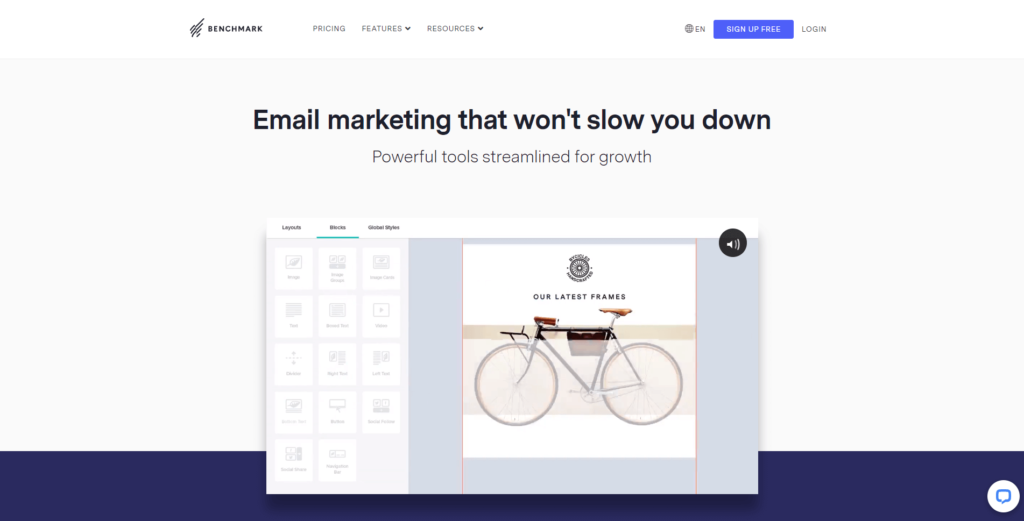 Benchmark is a great email marketing platform with a WYSIWYG form editor. It gives you a responsive email that looks good on any device they view it on. However, the free plan doesn't offer the automation features, and an email sent through the free plan has the Benchmark's branding.
You can preview your design via mobile or desktop mode and edit photos right on its editor, track how your email delivery and open rate with the reporting features.
Free plan:
You can send 250 emails per month to unlimited subscribers with the free plan with no credit card required.
Paid plans:
The paid plans start at $11.89 per month.
GetResponse is a great all-in-one email marketing platform; It allows you to create landing pages, funnels, automation, re-targeted ads, and webinars.
When you sign up you get 30 days full access to all the features of their plans, including unlimited emails for 1000 email lists. You might not need to outsource images, with over 5,000 Shutterstock images you get all you need on the platform.
Free plan:
GetResponse sent don't a free plan, but you get 30 days trial for any of their plans to try out their services, and you don't need a credit card to sign-up.
Paid plans:
GetResponse email platform has 4 plans; the basic plan starts at $15, the plus starts at $49, the professional plan starts $99, and the enterprise plan starts at $1,199 per month.
AWeber has been one of the leading email marketing platforms for years now, boasting with over 100,000 plus email marketers, you get access to drag-and-drop form builder, and high deliverability rate.
It offers a 30-day trial for the full features, you can pre-pay and save 14% of the quarterly plan and save 14.9% of the yearly plan, but it requires a credit card to sign-up and there's a no refund policy.
Free plan:
There's no free plan, but you get a one-month free trial to all of its full features, they require a credit card to sign-up.
Paid plans:
The monthly plan starts at $19, you save 14% when you upgrade to quarterly plan and save 14.9% you upgrade to the yearly plan.
Constant Contact is one of the leading email marketing platforms for over 20 years. This platform gives you a simple drag and drops email editor, and lot's of email templates, A/B testing, and unlimited emails.
You can easily synchronize the platform with big commerce and Shopify. You can easily design a beautiful email with no knowledge.
Free plan:
Constant Contact offers you a one month trial for its two basic plans and requires a credit card to sign up.
Paid plans:
You can sign up for the Email plan which starts at $20 per month and the Email plus plan at $45 per month. You can also save when you, pre-pay for six months or twelve months.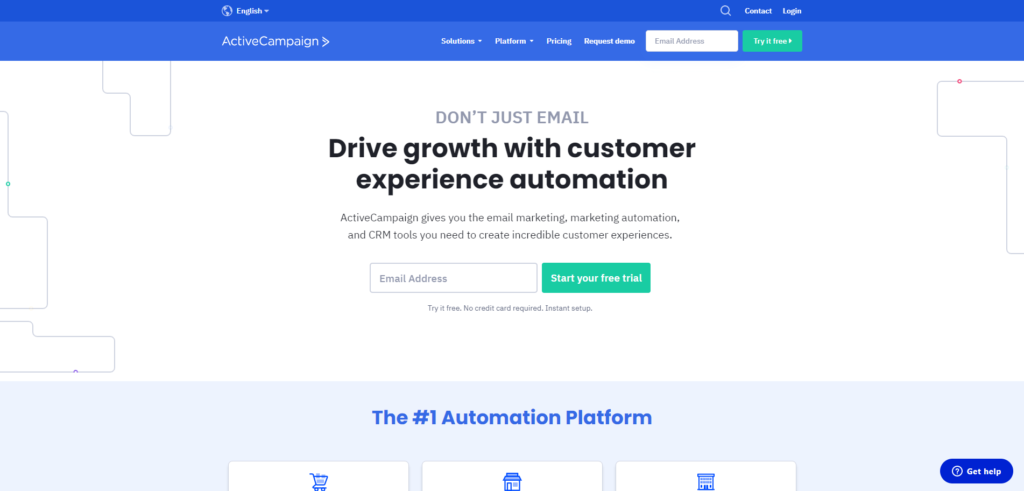 The ActiveCampaign marketing platform is a top-notch for automation, the easy-to-use drag-and-drop editor to create emails, great for a large team of email marketers, and you can calculate your abandoned cart ROI.
But the platform offers CRM capabilities feature, so if you are starting small you need not break the budget and get other CRM platforms.
Free plan:
ActiveCampaign offers a 14 day trial, but requires a credit card information.
Paid plans:
4 plans to choose from; The lite plan, plus plan, professional and the enterprise plan.
SendinBlue email marketing is getting their name out there, with most of the great features for free, you can build responsive emails with the drag-and-drop email builder. The free plan comes with the CRM feature.
Free plan:
you can send emails to an unlimited email list, but you can only send 300 emails per day.
Paid plan:
4 paid plans; The Lite at $25/month, the Essential plan at $39/month, the Premium plan at $66/month, and the Enterprise plan.
Omnisend email marketing service is great for eCommerce, you can easily build a newsletter displaying your product and send the SMS campaign.
Omnisend is an email platform if you are looking to send a high volume of emails per month, with this platform you can send up to 15,000 emails for free. It doesn't offer lots of free features, but it is great if you are just starting out.
Free plan:
Omnisend offers a free plan that allows you to send 15,000 emails per month.
Paid plan:
3 paid option, the standard at $16/mo, pro at $99/mo and the enterprise.
Do you sell physical or digital products? Do you have an E-commerce store? Then Drip is the email marketing platform for you, it allows you to send sequence email without the stress. You can send automatic emails based on the behavior of your website visitors.
This intelligent marketing automation tool is the best out there for automation emails, the drip email marketing service is not only for an e-commerce website. You can create a chat and email support.
Free plan:
Drip offers all of its full features for a 14 day's trial, No credit card required.
Paid plan:
Drip has a lot of paid options depending on the numbers on your email list. The plan starts at $49 per month.
Hubspot is an all in one email marketing platform, as one of the leading marketing services, it guarantees you to get better features from the platform. You can add unlimited users, manage your contact with the CRM features, and send up to 2000 emails per month for free.
The HubSpot platform is easy to use, the CRM features allow you to store up to 1 million free contacts. HubSpot includes its branding at the end of every email you send.
Free plan:
You can access a lot of great features with the HubSpot free plan, you don't need a credit card to sign-up.
Paid plan:
Hubspot has 4 paid plans; They have the starter plan at $50/month, Basic at $200/month, Pro at $800/month, and an Enterprise plan.
Bottom line
If you are new to email marketing, it might confuse you about which email marketing service to pick, most of these platform free plan has great features that can do everything you need when you are just starting.
With the free trials and free plans on these email marketing platforms, you can try them all and pick which one you think is more robust with features you want.
Have you tried any of these email marketing tools and which one would you recommend? Tell us in the comment.